Sales management (e-book)
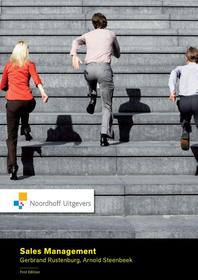 Voorzijde

Inkijkexemplaar
ISBN: 9789001852375
Uitgever: Noordhoff
Verschijningsvorm: E-book via Bookshelf
Auteur: Gerbrand Rustenburg & Arnold Steenbeek
Druk: 1
Pagina's: 494
Taal: Engels
Verschijningsjaar: 2014
Categorie:
NUR:
The first four editions of the Dutch edition of Sales Management have been received with great enthusiasm both in higher education and in industry. There seems to be a great need for a complete and practical textbook, tailored to the sales practice. The international edition of this popular book is now available, edited with a European perspective.