Insurance and Europe / druk 1
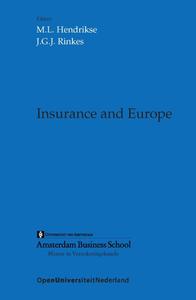 Voorzijde

46,00
Met 5% studentenkorting
Voor 43,70
i
ISBN: 9789077320525
Uitgever: Uitgeverij Paris B.V.
Verschijningsvorm: Paperback / softback
Auteur: J.G.J. Rinkes & M.L. Hendrikse
Druk: 1
Pagina's: 100
Taal: Nederlands
Verschijningsjaar: 2007
NUR:
The Insurance Industry is increasingly influenced by European rules. Insurance companies in the twenty first century are active on the European Market as a whole, and national boundaries are less important. However, opinions differ with regard to the results obtained since the 1990's.1 A truly 'level playing field' seems to be absent; insurers and insured still face many difficulties when entering into cross-border transactions.
Awareness of the effects of the developments of the European Insurance Market and the 'rules of the game' is of the utmost importance for the Insurance Industry.
From this perspective, the Master Insurance Studies of the UvA Amsterdam Business School, in co-operation with the Open University of the Netherlands, the Netherlands Association of Insurers and the Netherlands Journal of Commercial Law (NTHR) organised the symposium 'Insurance and Europe' on Friday 23 November 2007.
Its contributors were:
Prof. dr. J.G.J. Rinkes (University of Maastricht/Open University of the Netherlands) and dr. M.L. Hendrikse (University of Amsterdam/Open University of the Netherlands): 'Europe and insurance: the consumer perspective'
Prof. dr. H. Heiss (University of Zürich), 'The Restatement of European Insurance Contract Law'
Prof. dr. A. McGee (University of Manchester), 'Competition in the European Insurance Market'
Prof. dr. A.E. Ronner (University of Amsterdam), 'Enterprise Risk Management in Europe'
Mrs. dr. X.E. Kramer (Erasmus University Rotterdam), 'Private International Law, Insurance and Europe: The proposal for a Rome-I- Regulation'