The new Netherlands Financial Services Complaints Tribunal (Kifid) / druk 1
complaints settlement in the financial services market in the Netherlands
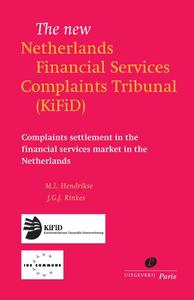 Voorzijde

35,50
Met 5% studentenkorting
Voor 33,73
i
ISBN: 9789077320488
Uitgever: Uitgeverij Paris B.V.
Verschijningsvorm: Paperback / softback
Auteur: M.L. Hendrikse & J.G.J. Rinkes
Druk: 1
Pagina's: 176
Taal: Engels
Verschijningsjaar: 2007
NUR:
In the Netherlands, the structure of alternative dispute resolutionin the area of financial services has changed considerably in 2007.
Existing schemes for ADR have merged into a new institution, the Financial Services Complaints Tribunal (KiFiD). This book describes the development of KiFiD within the framework of European rules for ADR and mediation, and article 6 of the European Convention (Human Rights), and compares its structure with developments in the UK, Germany and Spain regarding ADR for financial services.
In 2005 the Dutch representative organisations of licence holders under the Wfd (Financial Services Act, since 1 January 2007 the Wft, the Financial Supervision Act) signed a declaration expressing their intention to develop a single dispute resolution institution for the financial services market: the Financial Services Complaints Tribunal (KiFiD).
For customers' complaints about financial services, KiFiD offers facilities for mediation (an ombudsman function) as well as for the extrajudicial settlement of complaints and disagreements (a 'judging' function). KiFiD was presented on 1 January 2007 and came into force on 1 April 2007.
This book (issued as a preparatory report for KiFiD) deals with the national and European legal preconditions for the settlement of disagreements in the area of financial services, especially concerning the setting up of KiFiD.