More sales, same people
four steps to more effective sales management
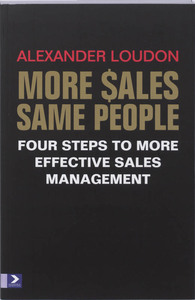 Voorzijde

Achterzijde

37,50
Met 5% studentenkorting
Voor 35,63
i
ISBN: 9789052616667
Uitgever: Boom
Verschijningsvorm: Paperback
Auteur: A. Loudon
Druk: 1
Pagina's: 128
Taal: Engels
NUR:
Selling is the core activity of every business. However, in many cases sales results can be improved. Not, as is usually believed, by training individual sales professionals in new skills, but by improving the sales process itself. The quickly effective result is: More sales, with the same people!
This book explains how to increase the effectiveness of your sales process in
four straightforward steps. The tools described can be put into practice immediately.
Useful checklists, perceptive case studies and overall clarity make More
sales, same people accessible to everyone. Its effectiveness has been proven:
large multinationals such as General Electrics as well as other, smaller organizations have already benefited from its successful methodology.
Alexander Loudon has over ten years of hands-on commercial experience behind him, including work at Dell. A consultant for Capgemini, he provides advice in the field of commercial strategy, and also writes articles on this subject. He is the author of Webs of Innovation.