Research.This is it! / Druk 2
guidelines how to design, perform and evaluate quantitative and qualitative research
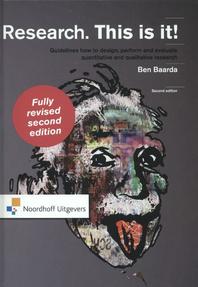 Voorzijde

Achterzijde

ISBN: 9789001816964
Uitgever: Noordhoff
Verschijningsvorm: Hardcover
Auteur: Ben Baarda
Druk: 2
Pagina's: 160
Taal: Engels
Verschijningsjaar: 2014
Categorie:
NUR:
- Concise introduction to quantitative and qualitative research;
- student-friendly and illustrated with practical examples;
- comprehensive online support for both students and instructors.
Research. This is it! offers a concise and integrated coverage of quantitative and qualitative research methods. This student-friendly textbook provides a practical introduction to the four basic steps in research: defining the problem; the research design; collecting and processing data; analysing and reporting research data.The theory is accessible and is illustrated throughout by practical examples taken from a wide range of case studies.