Export, a practical guide / Druk 2
a practical guide
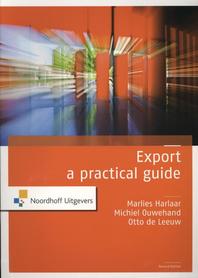 Voorzijde

Achterzijde

43,95
Met 5% studentenkorting
Voor 41,75
i
ISBN: 9789001795740
Uitgever: Noordhoff
Verschijningsvorm: Paperback
Auteur: Marlies Harlaar, Michiel Oudehand & O. de Leeuw
Druk: 2
Pagina's: 235
Taal: Engels
Verschijningsjaar: 2012
Categorie:
NUR:
Export, a practical guide is intended for students in vocational education as well as for starting exporters—not just those in large companies. Small businesses have export opportunities as well. Companies that are already exporting goods or services can equally benefit from this textbook.
Many entrepreneurs at some point ask themselves the question: 'Should I go into the export business?' Or perhaps the question is, 'I have been exporting for some time now, but have I been doing it as well as I could?' Do you want to know how to get the most from export opportunities? This textbook offers a practical guide to successful exporting. Moreover, it is immediately applicable to your own business situation.