Strategic Management in a Turbulent World / Druk 1
Learning how to make your organization future-proof
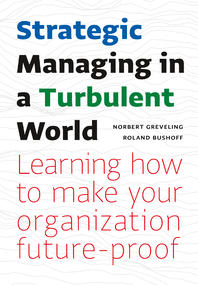 Voorzijde

Inkijkexemplaar

30,95
Met 5% studentenkorting
Voor 29,40
i


Vóór 16 uur besteld,
morgen in huis
ISBN: 9789462762947
Uitgever: Boom
Verschijningsvorm: Hardcover
Auteur: Norbert Greveling & Roland Bushoff
Druk: 1
Pagina's: 240
Taal: Engels
Verschijningsjaar: 2019
NUR:
A new and refreshing approach for managers, advisors and students with challenging terminology and insights to make organizations future-proof.
This book describes a new paradigm about strategic managing. Aimed at leaders to keep a future-proof course in turbulent times by making the right strategic choices for their organization. Well-known strategy models and approaches for strategy development are hardly applicable for making and implementing strategic choices in the current age of increasing turbulence and disruption.
With years of experience as manager, consultant and professor in strategic management, Norbert Greveling and Roland Bushoff share a holistic way of looking at organizations and a new way of thinking about being future-proof, a clear task for leaders and a dynamic way of working, while keeping a future-proof course. An inspiring book with which the authors offer practical tools for managers that want to strengthen the future of their organizations. New insights and views on strategic management are complemented with telling examples and the authors provide a clear context for the well-known strategy models and theories. You can start using the methodology today.
"This book provides a contemporary approach for strategic management. It deals with the intense dynamics that leaders are facing when working on the future success of their organization. The authors introduce adequate and practical theories, models and tools for leaders to work with. We have selected this book as the core material for the strategic management courses in our MBA programs, worldwide."
— Marcel van der Ham, dean Business School Nederland