Reimbursement for Attorney's Fees / druk 1
a comparative study of the laws of Switzerland, Germany, France, England and the United States of America; International Arbitration Rules and the United ions Convention on Contracts for the International Sale of Goods (CISG)
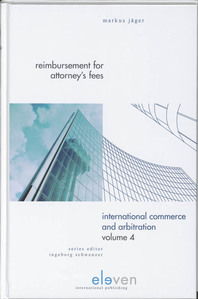 Voorzijde

Achterzijde

ISBN: 9789077596982
Uitgever: Eleven international publishing
Verschijningsvorm: Hardback
Auteur: Markus Jaeger
Druk: 1
Pagina's: 197
Taal: Engels
Verschijningsjaar: 2010
NUR:
The present work analyses the reimbursement for attorney's fees with regard to the applicable national laws of Switzerland, Germany, France, England and the United States of America, and with regard to the international arbitration rules and the CISG. It focuses on the allocation of attorney's fees in contract and tort cases and business law. The author detects contradictions in the rules and principles and argues persuasively for the creation of a general fee-shifting rule.
This new volume in our series International Commerce and Arbitration with its broad and unique coverage of multiple topics within the field render the book an indispensable guide for those interested in arbitration and litigation.
About the author:
The author was born and educated in Switzerland. In 2005, he graduated summa cum laude from the Law Faculty of the University of Basel. After staying several months in Canada, he joined Homburger AG, Zurich, as a law clerk and passed the Zurich bar exam in 2008. In 2009, he received his doctorate (summa cum laude) from the Law Faculty of the University of Basel. Since 2009, he works as an associate at Bär & Karrer AG, Zurich.