Constitutional Topography
values and Constitutions
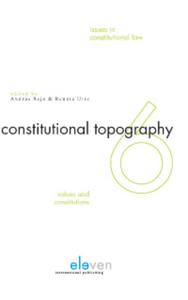 Voorzijde

Achterzijde

ISBN: 9789077596920
Uitgever: Eleven international publishing
Verschijningsvorm: Hardback
Auteur: András Sajó & Renata Uitz
Druk: 1
Pagina's: 411
Taal: Engels
Verschijningsjaar: 2010
NUR:
This volume seeks to explore the potential locations of constitutional values, their relationship with the text of the constitution, their function in judicial reasoning and beyond the confines of court proceedings. Covering a wide range of perspectives from lawyers (including judges, former advocates, and law professors) to philosophers and political scientists, offering an interesting combination of methodologies and exploring numerous national and international contexts, this collection of essays aspires to provide further insight into the ongoing rich and intense interdisciplinary exchange on constitutional axiology.
Chapters in the first part of the book reflect on the fundamental premises of the relationship between constitutional text and judicial reasoning.
Chapters in the second part of the volume provide adjudication-oriented answers to the theoretical positions outlined above, while also struggling with further complexities this exercise brings.
Contributions in the closing section of the volume tackle specific values and value arguments in constitutional adjudication across jurisdictions, focusing on particular problems, including the impact and indirect consequences of contestation over values in the judicial arena.