The system of liability of articles III and IV of the Hague (VISBY) Rules
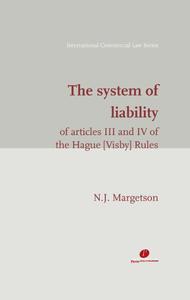 Voorzijde

ISBN: 9789077320594
Uitgever: Uitgeverij Paris B.V.
Auteur: N.J. Margetson
Pagina's: 240

This book contains a study of the system of liability under the Hagueand Hague Visby Rules. The application of the Rules under American, English and Dutch law and incidentally Australian and Canadian law is researched to determine if the Rules are construed and applied uniformly. Where it is found that there are differences in the way a Rule is applied the intended construction of the Rule is established.
After a chapter on the construction of the Rules, the duties of the carrier contained in article III(1) and III(2) are discussed. Some of the most important exceptions of article IV and the relationship between those exceptions and the duties of the carrier are discussed in two separate chapters. There is also a chapter on the division of the burden of proof.
The book ends with a chapter containing the conclusions derived from the comparative legal research throughout the book.
A summary is included in English and Dutch.
Over de auteur
N.J. Margetson is a lawyer in Rotterdam at Hampe Meyjes.