Archaeology and the application of artificial intelligence / druk 1
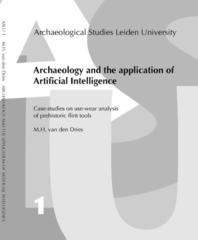 Voorzijde

Achterzijde

Artificial intelligence is an integrated part of our daily life and of many fields in research. In archaeology, however, it does not (yet) play an important role. In the past twenty years archaeologists have discussed the potentials of, in particular, expert systems. They have developed some valuable systems, but the general impression is that archaeology is not a suitable host discipline for knowledge-based approaches. In Archaeology and the Application of Artificial Intelligence: case studies on use-wear analysis of prehistoric flint tools, dr.M.H. van den Dries sets out to validate this negative conclusion.
She states that since most archaeological applications were mere prototypes and have never been subjected to objective tests, there is hardly any ground for this rather radical inference. In order to ground her conclusion objectively, Van den Dries has built two applications, an expert system and a neural network. She used use-wear analysis of prehistoric tools as the application area. The main objective of the project was to develop a practical training tool for students. As Van den Dries' aim was to demonstrate the practical applicability of both applications, they were exposed to two objective tests in which replicated stone tools as well as prehistoric artefacts were involved. In one test both experience use-wear analysts and students participated. The outcome of this trail has been compared with the results of all other blind tests that human use-wear analysts have carried out hitherto. An important conclusion of Van den Dries' study is that both applications perform well, but that the expert system is better equipped for educational tasks, while the neural network approach mainly suits research purposes.
Therefore, the expert system application, called WAVES, has been made operational. It already supports students of several archaeology departments around the world in learning use-wear analysis. Based on her findings Van den en Dries subsequently advises archaeologists to exploit better the merits that artificial intelligence offers them, because it is a means to record unique and valuable expert knowledge, to obtain objective analysis results and to democratize archaeological knowledge.