Morya Wisdom 2: Simplicity
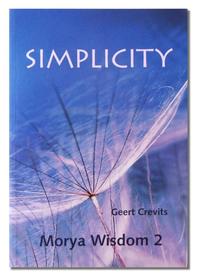 Voorzijde

Achterzijde

14,00
Met 5% studentenkorting
Voor 13,30
i
ISBN: 9789075702507
Verschijningsvorm: Paperback / softback
Auteur: Morya & Geert Crevits
Druk: 1
Taal: Engels
Verschijningsjaar: 2012
NUR:
"Everything on this Earth gives the impression of being transitory, and yet there is always a fundamental and enduring activity taking place and this is what you should try to find and to experience. Once you experience this, you will be a happy person and will understand, through the great spectacle of life, what it is all about. You will understand the deeper meaning of life, something that will never leave you, something that will follow you from life to life in an evolution of blossoming and beauty and majesty."
In plain language, the Morya books communicate the deepest spirituality. Whether you choose to read them as a source of spiritual study, to reflect on single passages or simply leaf through the books out of curiosity, time after time, you'll go away with a gained insight and wisdom that you are not only able to comprehend but can also apply to your daily life. Without avoiding any subject and using finely nuanced words, Master Morya manages to sketch a profound picture of the reality of this world, a picture that never ceases to provide solutions to the minor problems of life as well as answering major existential questions.
The Morya books form part of a series but can also be read individually. To read excerpts from all the books and for more information about Morya, go to www.morya.org.
Chapters:
Asking questions in a changing world
Opening yourself to the inner world
Getting a grip on life
Another future
Side by side with the Master
'How do I take my life in hand?'
The Earth: body and third eye
The world of the heart
A task in your life
"Who am I?"
The sun's energy within matter
A manual for turning your heart into a treasure house
The end of the path
You and the others