Fine & Curious
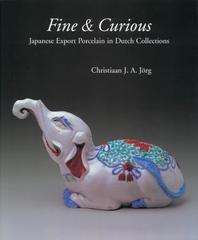 Voorzijde

53,00
Met 5% studentenkorting
Voor 50,35
i
ISBN: 9789074822169
Uitgever: Koninklijke Brill N.V.
Verschijningsvorm: Hardback
Auteur: Christiaan J.A. Jorg
Druk: 1
Pagina's: 304
Taal: Engels
Verschijningsjaar: 2003
NUR:
An enduring witness to Dutch-Japanese relations is Arita export porcelain made for the Dutch market in the 17th and 18th centuries. The Dutch East India Company (VOC) was instrumental in ordering and distributing a variety of export wares. Private trade also played an important role. This resulted in the importation of large amounts of Japanese porcelain into The Netherlands, particularly during a period when Chinese porcelain was not available. These objects were assimilated into Dutch life and they stimulated the interest in exotica from the Orient. While many of these exquisite pieces have been lost over time, numerous examples are still preserved in public and private collections in The Netherlands. Professor Dr Jörg discusses the variety of export ware and the extraordinary pieces in those collections, many of which are published here for the first time. This survey offers a fascinating insight into a relatively unknown aspect of Dutch-Japanese interaction and is the first book of its kind devoted to this subject in English.