Not Invented Here / Druk 1
cross-industry innovation
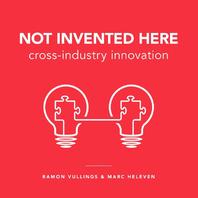 Voorzijde

Achterzijde

Inkijkexemplaar

14,99
Met 5% studentenkorting
Voor 14,24
i
ISBN: 9789063693794
Uitgever: BIS Publishers
Verschijningsvorm: Paperback
Auteur: Ramon Vullings & Marc Heleven
Druk: 1
Pagina's: 220
Taal: Engels
Verschijningsjaar: 2015
Categorie:
NUR:
Where can a hospital apply principles from the airline sector?
How can a car manufacturer use tools from the video game industry?
What can an event organiser learn from the railways?
Cross-industry innovation is a clever way to jump-start your innovation efforts by drawing analogies and transferring approaches between contexts, beyond the borders of your own industry, sector, area or domain.
Not invented here refers to the phenomenon of people blocking out ideas from the outside, it also indicates that there are beautiful alternatives everywhere just waiting to be introduced to your context. The potential of ideas and approaches from other areas is tremendous, still only very few organisations apply cross-industry innovation strategies in any kind of structured way. The book Not Invented Here provides you with cross-industry innovation strategies and tools to increase your match sensitivity' (the ability to make more effective connections) and see the opportunities available to you.
With the chapters The art of questioning, Someone else has solved your problem, Inspiring industries & smart sectors, Your business challenges and many more this book opens up interesting new perspectives and is a significant source of major innovative steps.
This inspirational, illustrated business book presents strategies & tools for cross-industry innovation. It emerged from hundreds of conversations with business leaders and innovators and is packed with ideas, approaches, and cases that you can apply in your own industry.
The authors, Ramon Vullings & Marc Heleven, would like to invite you to this quest called cross-industry innovation, learning from other sectors, not just to think outside the box -but even more importantly- to think outside of your industry. Ramon & Marc hope to inspire and enable you by developing your match sensitivity to make even better connections.
Praise for 'Not Invented Here:
Not invented here is spot on! It illustrates exactly what today's companies and leaders need to do: to look outside and learn from others. This book provides great examples and practical tips to get started." - Stan Steverink - Director Leadership Development, Hay Group Benelux
"Why read this book? Because Ramon and Marc succeed in presenting cross-industry innovation - a truly complex matter - in such an appetizing way: read and eat these pages like a cook book, with lots of inspiring recipes! Challenge your daily business menu: review the classical ingredients of your industry and remix them!" - Natacha Dagneaud - CEO Seissmo Market Research
"If you look only within your industry for best practices, youll find only what your competitors are already doing. To do better than competitors, you have to look beyond. In "Not Invented Here" Ramon and Marc masterfully unpack the process of borrowing and adapting ideas from outside your industry. A must read for innovation seeking managers." - Niraj Dawar - author of TILT: Shifting Your Strategy from Products to Customers, Professor of Marketing at Ivey Business School, Canada.
The authors:
Ramon Vullings is a cross-industry expert, international keynote speaker, world traveller, business author on applied creativity & innovation, enthusiastic Master of Interaction, workshop & training facilitator and ideaDJ.
Marc Heleven is a cross-industry expert, professional web searcher for innovation inspiration, business author, SlideShare Keynote Author, workshop & training facilitator and ideaDJ.
The chapters of the book' Not invented here:
1. Cross-industry innovation
2. The art of questioning
3. Someone else has solved your problem
4. Inspiring industries & smart sectors
5. WWxD? What Would x Do?
6. Your business challenges
7. The power of the unexpected
8. Remix your industry
9. Go out(ro)
This book aims to be a joyful guide, using inspiring stories, challenging thoughts and many practical tools. From cover to cover or at random: no matter how you dive in, insights are bound to arise.