Drawing the Kafr Qasem Massacre
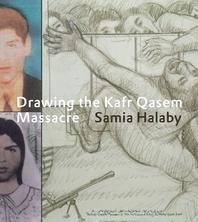 Voorzijde

Achterzijde

ISBN: 9789053308745
Uitgever: Schilt Publishing B.V.
Verschijningsvorm: Hardcover
Auteur: Samia Halaby
Druk: 1
Taal: Engels
Verschijningsjaar: 2016
NUR:
The 1956 Kafr Qasem massacre was carried out by the Israeli Border Police under cover of the tripartite attack on Egypt by England, France, and Israel. Two other massacres took place during the ensuing days in the cities of Rafah and Khan Younis, where 111 and 275 Palestinian civilians were slaughtered by Israeli troops on their way to Egypt, respectively. In Kafr Qasem, an artifice was created to provide a fig-leaf excuse for the killing of innocent people - a curfew announced less than a half an hour before it was implemented. Workers returning home, tired and hungry, unaware of the curfew, were cold-bloodedly shot dead by members of the Israeli Border Police.
Based on interviews with survivors, Samia Halaby created a set of documentary drawings on the subject. The emotions of anger and fear leap from every page of this book, enabling the reader to bear witness to the terrible suffering endured by the inhabitants of this small Palestinian village.
Born in Jerusalem in 1936, Samia Halaby is a leading abstract painter and an influential scholar of Palestinian art. Influenced by the Soviet avant-garde, Halaby works with the conviction that Abstraction is based in reality, and has not been sufficiently explored. Her work has been collected by international institutions since the 1970's, including the Solomon R. Guggenheim Museum of Art (New York and Abu Dhabi); Yale University Art Gallery; National Gallery of Art, Washington D.C.; Art Institute of Chicago; Cleveland Museum of Art; Institute du monde arabe; and the British Museum.