Sadik Kwaish Alfraji
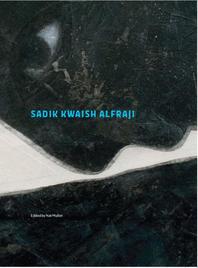 Voorzijde

Achterzijde

ISBN: 9789053308486
Verschijningsvorm: Hardcover
Auteur: Sadik Alfraji
Druk: 1
Taal: Engels
Verschijningsjaar: 2015
NUR:
Sadik Kwaish Alfraji is the first book that offers a comprehensive look into the world of one of the most prominent Iraqi artists working today.
The publication covers over thirty years of his practice, from his student work of the early 1980s in a war-torn Iraq, to his many artist books, paintings, drawings, videos, and large-scale installations. It provides an in-depth overview of Alfraji's work, which combines artistic and philosophical concepts to create a distinct graphical visual language. Alfraji's oeuvre addresses the vulnerability of human existence and speaks of loss, exile, fragmentation and displacement.
This book which is being published in cooperation with Ayyam Gallery (London/Dubai) is edited by the leading curator and critic of contemporary Middle Eastern art, Nat Muller, and includes an in-depth interview with the artist and a critical text by renowned cultural historian of the Middle East, and Professor at Brown University, Shiva Balaghi.
Sadik Kwaish Alfraji was born in Baghdad in 1960. He lives and works in Amersfoort, The Netherlands. His work can be found in numerous private and public collections in the Middle East and internationally. His work was highly acclaimed by the international public during the FotoFest International Biennial 2014 about contemporary Arab art (which also led to the book View From Inside - Contemporary Arab Photography, Video and Mixed Media Art, published by FotoFest/Schilt Publishing in 2014).
Nat Muller is an independent curator and critic based in Rotterdam. Her main interests include: the intersection of aesthetics, media and politics; media art and contemporary art in and from the Middle East. In 2015 she will be curating Sadik Kwaish Alfraji's solo show at Ayyam Gallery (Dubai) and will be curator-in-residence at the Delfina Foundation's Politics of Food Program (London).