Evidence / druk 1
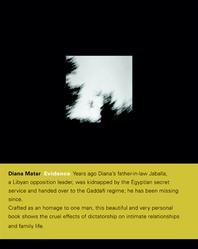 Voorzijde

ISBN: 9789053308424
Verschijningsvorm: Hardcover
Auteur: Diana Matar
Druk: 1
Pagina's: 176
Taal: Engels
Verschijningsjaar: 2014
NUR:
Evidence is the accumulation of six years work on political disappearance by the photographer Diana Matar. Years ago the artist's father in law, a Libyan opposition leader, was disappeared by the Gaddafi regime.
The first third of the book is a meditation on absence told through photographs and excerpts of letters written by the artist to her missing father in law, Jaballa. Slowly the book begins to change as it is made clear that Jaballa's actions have implications on her own life and family's safety. As she travels through London, Libya, Italy and California, the images and diary entries take one on a journey through contemporary history.
Crafted as an homage to one man, the book shows the cruel effects of dictatorship on intimate relationships and family life.
Diana Matar is a photographer based in London. Her work, which often incorporates testimony, archive or text, investigates issues of immigration, representation, urban development, and political disappearance. Neither her subject matter nor the location where she works are stable. Instead what ties her work together is its relationship to history and memory. When Diana Matar photographs a building she is not concerned with its structure but with what happened inside, when she photographs a tree she is interested in the events it has witnessed over its lifespan. When she makes a portrait she is trying to render something about what the person has already experienced rather than the present moment in their life.
Matar has been the recipient of the Deutsche Bank Pyramid Award for Fine Art, The International Fund for Documentary Photography, and has been nominated for Prix Pictet award. Her work is held in numerous public and private collections and has been published in the New Yorker, Internazionale, Ojo de Pez and many other publications. She has exhibited at Saatchi Gallery, London, Gallery of Photography Temple Bar, Dublin, Fotographie Forum International, Frankfurt, Noorderlicht Fotofestival, Q ARTS Derby and the Plymouth Museum, amongst others.
Fifteen of the images in Evidence will be showing at the Tate Modern in: Conflict, Time, Photography. November 27th, 2014 - April 14th 2015. The book will be launched at the start of this show.
Design: Diana Matar & Victor Levie, MV LevievanderMeer, Amsterdam