Resort 2
butlin's bognor regis
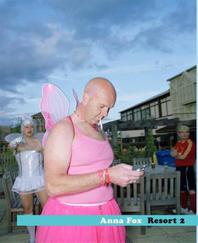 Voorzijde

Achterzijde

ISBN: 9789053308400
Verschijningsvorm: Hardcover
Auteur: Anna Fox
Druk: 1
Taal: Engels
NUR:
For two years British photographer Anna Fox documented holiday culture at the iconic Butlin's resort in the seaside town of Bognor Regis, West-Sussex. This new book Resort 2 is the second part of the Resort project. "Resort 1", published in the Fall of 2013, looked at "Family Breaks" at this iconic holiday camp, providing a unique insight into contemporary British leisure culture. "Resort 2" observes a very different kind of holiday, the themed adult breaks, taking place about once every six weeks inside this very British holiday camp. Butlin's, famed for its family holidays since its creation in the mid-1930's, needed to rework its branding from the 1970's onwards. Cheap package holidays started to draw families away from this popular resort and several of the camps closed down.
Having attracted tens of millions of holidaymakers since its creation in 1936, the popularity of Butlin's was at stake and after the rebranding of the "Family Breaks" came a new invention - the "Adult only Themed Weekends". Steeped in a carnival atmosphere these raucous weekends bring out a range of fantastic characters from groups of imitation pop icons such as Amy Winehouse and Elvis to gangs of male fairies. With various titles such as "Back to the 60's" or "90's Re-loaded" and the marvellous "Hot Summer Party", these weekends attract thousands of work-worn adults ready to try out exotic fancy dress and party hard for two days and three nights.
Shot using both medium and large-format, Fox's deeply saturated colour photographs provide a fascinating insight into an unseen side of holiday camp culture.
"Resort 2" includes 40 photographs from the series, with an essay by David Chandler.
"Fox's Butlin's photographs often blur the lines between the staged and the carefully observed, between the orchestrated and the documentary. Fox is, at heart, an observer; and Resort 1 is a sustained observation that, on closer inspection, reveals the bizarre interiority of the Butlin's experience." The Guardian
"If in Resort 1, adults, teenagers, and children collectively consume Butlin's numerous offerings under blues skies and neon lights; Resort 2, to be published in the near future, will focus on Butlin's adult breaks and weekends. One might suspect, given Anna Fox's repertoire and keenness towards the peculiar, that Resort 2 might unveil something far less quotidian and mundane occurring behind the extraordinary idyllic, yet slightly unsettling curtain of Resort 1. We wait with curious anticipation." American Suburb X
Born in 1961 and completing her degree in Audio Visual studies at The Surrey Institute, Farnham in 1986, Anna Fox has been working in photography and video for over twenty years. Influenced by the British documentary tradition and US 'New Colourists', her first work Workstations (published by and exhibited first at Camerawork, London 1988) observed, with a critical eye, London office culture in the mid-Thatcher years. Her later work documenting weekend wargames, Friendly Fire, was exhibited in the exhibition Warworks at the Victoria & Albert Museum, the Netherlands Foto Institute and the Canadian Museum of Contemporary Photography.
Her solo shows have been seen at The Photographer's Gallery, London and The Museum of Contemporary Photography, Chicago, and her work has been included in numerous international group shows - Through the Looking Glass, Centre of the Creative Universe: Liverpool and the Avant-garde, and How We Are: Photographing Britain, amongst others.
Anna Fox is Professor of Photography at the University for the Creative Arts at Farnham, UK.
Design: MV Levievandermeer