World press photo / 2014 / druk 1
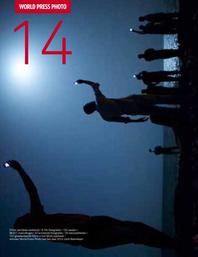 Voorzijde

Achterzijde

ISBN: 9789053308264
Uitgever: Schilt Publishing B.V.
Verschijningsvorm: Paperback
Auteur: Manja Kamman, Laurens Korteweg & Jennifer Noland
Druk: 1
Pagina's: 160
Taal: Nederlands
NUR:
Nederlandstalige uitgave
Every year since 1958 an international jury has met in the Netherlands
under the auspices of the World Press Photo Foundation to choose
the world's finest press photographs. Universally recognized as the
definitive competition for photgraphic reportage, it has been
described by Michael Rand as 'the international photographic
contest'. Publishing the results of the latest annual World Press
Photo Contest, this exceptional book contains the very best press
photographs from 2013 - pictures submitted by approximately 6,000
photojournalists, photo agencies, newspapers and magazines from
about 125 countries. Selected from around 100,000 images, these
prize-winning photos capture the most powerful, moving and
disturbing images of the year.
'Will amuse, sadden, console and ultimately teach you much about this
world of ours.' People Photography
'Some of the very best work being done around the world today.'
News Photographer