Pipeline / druk 1
human trafficking in Italy
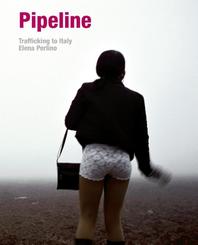 Voorzijde

Achterzijde
ISBN: 9789053308240
Verschijningsvorm: Hardcover
Auteur: Elena Perlino
Druk: 1
Pagina's: 224
Taal: Engels
NUR:
The United Nations Office on Drugs and Crime has declared Nigeria
among the top eight countries with the highest human trafficking
rates in the world. Photographer Elena Perlino has been working on
this extremely important topic for many years, focusing mainly on the
Italian connection since Italy has an extensive sex industry based on
trafficking from Africa. Perlino's work attempts to show the
complexities and contradictions of women's experiences,
documenting their daily life in Turin, Genoa, Rome, Naples and
Palermo. By collecting stories of women from Benin City (Edo State)
- where around 80% of trafficked women come from - this reportage
bears witness to the multiple reasons behind women's forced or
voluntary migration. Elena Perlino has succeeded in telling a
breathtaking story with elegance; this book became thus a harsh yet
touching portrait of one of Europe's most horrific daily scenes.
Elena Perlino (Italy, 1972) is a
documentary photographer covering
human issues. Her recent works have
been focusing on migration, human
trafficking and gender issues. In 2013
she got the Prix Portfolio ANI,
Vendôme, France. Her long-term
project Pipeline will be exhibited at
Les Rencontres Internationales de la
Photographie and Gaspésie, Canada in
2015. Her work was shortlisted for the
Magnum Emergency Fund 2013 and
2011. Elena's images have been
exhibited internationally, in places
such the Lawndale Art Center in
Houston, Texas; Les Rencontres
Internationales de la Photographie,
Arles; the Festival Internazionale in
Rome; the Museum of Contemporary
Art in Genoa; and PhotoEspaña in
Madrid. Elena Perlino is based in
Paris, France.
Cristiana Giordano is an Assistant
Professor in the Department of
Anthropology at the University of
California, Davis, USA. She earned her
degree at UC Berkeley, and has done
extensive research on human
trafficking, mental health and foreign
migration in Italy.
Isoke Aikpitanyi is a former victim of
trafficking and now the main reference
point for Nigerian women in Italy. She
has published two books on the
subject: I. Aikpitanyi, Le ragazze di Benin
City (together with L. Maragnani;
2007); and 500 storie vere (2011).