Stories of Change
beyond the Arab Spring
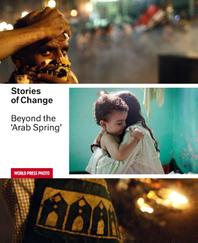 Voorzijde

Achterzijde

ISBN: 9789053308233
Auteur: World Press Photo & Petra Stienen

The "Arab Spring" is among the most thoroughly photographed
events in recent history. People in the streets using their mobile
phones to register incidents they were eyewitness to, local journalists
as well as camera crews and freelance photographers dispatched by
international media recording the developments from day to day. Our
perception of the "Arab Spring" is marked by dramatic images of key
moments during the uprisings. Demonstrators taking over Tahrir
Square in Cairo and engaging in violent clashes with the security
forces and supporters of President Mubarak; the storming of Colonel
Gaddafi's compound in Tripoli, Libya, by rebels and the capture of the
leader himself weeks later. Major changes in the power relations have
taken place since then: in Egypt and Tunisia, the resignation of the
country's president, and in Libya, the fall of the leader and the first
free elections in 60 years. In other countries, protests have not led to
a revolution, but they are facing challenges from local issues and from
the effects of the global economic crisis. How well do we know the
region beyond the headlines though? What has been the impact of the
events on people's everyday lives? Many of the issues that fuelled the
uprisings remain unresolved: a high level of youth unemployment, the
rising cost of living, women's rights etc. What is really going on in the
homes and in the streets of the cities in the region? What do people
worry or dream about? Stories of Change challenges our perceptions
of the region and brings to the foreground a local perspective in
reporting. Through stories produced exclusively for this book, and
shown here for the first time, we are offered an insider view into the
lives of people in a region that rarely has left news headlines, but that
only few of us know beyond the one-dimensional headline news
images flashed on our screens.
Stories of Change celebrates authenticity in visual storytelling,
showing us North Africa through the eyes of a group of
photojournalists from the region. They are all top alumni of a series
of workshops conducted in 2012 and 2013 by World Press Photo for
photographers from five participating countries: Morocco, Algeria,
Tunisia, Libya and Egypt.
Stories of Change contains a visual
chronology of the most memorable
moments of the Arab Spring, compiled
from the visual reporting in the
international media of the unfolding
events at the time. The main focus lies
in the visual storytelling by the young
talent in photographic reporting,
bringing into perspective and adding
depth and nuance to the reporting
about North Africa. The book contains
over 200 images on 312 pages, and is
complemented by articles by prominent
writers in the region about the North
African societies and cultures, and with
a foreword by Arabist and former
diplomat Petra Stienen discussing
the mythology of the Arab Spring and
how accurate our perceptions about the
region are or aren't. Accompanying
Stories of Change, a collection of
multimedia stories will be launched
online.