Under the Skin of Reality
treasures from the sassoferrato archive
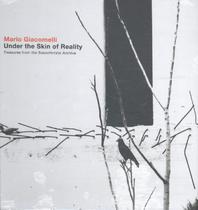 Voorzijde

Achterzijde

ISBN: 9789053308134
Uitgever: Schilt Publishing B.V.
Verschijningsvorm: Paperback
Auteur: Mario Giacomelli
Druk: 1
Taal: Engels
NUR:
After the death of Mario Giacomelli (1925-2000), two different archives with his work were established in 2003: the one in Sassoferrato and another one in Senigallia. Since 2007, the heirs Giacomelli became directors of the photographic heritage, taking over the management from Photology in Milan.
The Mario Giacomelli Sassoferrato archive contains about 12,000 photographs of Sassoferrato (including different printing techniques), their contact sheets and negatives. The operational character of the Sassoferrato Archive is to provide a framework in a philological way of the production of Giacomelli, in the context in which the artist has worked. In this way it offers an all-round view of this great artist who is world famous but from whom paradoxically many important aspects remain unclear.
The Sassoferrato Archive promotes a new way of looking at Mario Giacomelli, by highlighting his working method; the totally coherent structure that holds his entire production and is Giacomelli's unique style. For Giacomelli art and life were intrinsically linked and each series was created in close connection with all the others. Under The Skin Of Reality concentrates on the following series:
- Poesie in cerca d'autore (70s/2000)
- Motivo suggerito dal taglio dell'albero (1967-1969)
- 31 dicembre (1997)
- Favola, verso possibili significativi interiori (1983-1984)
- Metamorfosi della terra (1955-1980)
- Presa di coscienza sulla natura (1997-2000)
- Bando (1997-1999)
- La domenica prima (2000, his last work made shortly before his death)
The Sassoferrato archive is establishing a website now which will offer a small selection of the thousands of documents preserved in both Giacomelli archives. This will help to understand the cultural context in which Giacomelli has worked: his reflections on photography; the books he read and the phrases he underlined; the parallelism that can be grasped between the informal in his photographic production and in his paintings, presenting also some of the paintings (in total 400 works created by Giacomelli in the 1970s); a selection of poems written by Giacomelli; his correspondence with the artists of the early years, a witness of the vision on photography in the 1950s and 60s, and very interesting starting points to reconstruct the network of contacts among photographers and critics of that time, as well as the entire panorama of Italian art and culture of the second half of the twentieth century.
Schilt Gallery represents the Archivio Mario Giacomelli di Sassoferrato.