Resort 1 / druk 1
butlin's Bogor Regis
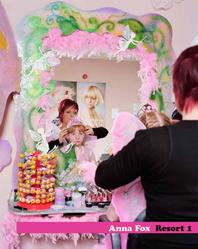 Voorzijde

ISBN: 9789053308035
Verschijningsvorm: Hardcover
Auteur: Anna Fox
Druk: 1
Pagina's: 104
Taal: Engels
Verschijningsjaar: 2013
NUR:
For two years British photographer Anna Fox documented holiday culture at the iconic Butlin's resort in the seaside town of Bognor Regis, West-Sussex. The work marked the 75th anniversary of this leisure brand, and provided a unique insight into contemporary British holiday culture. Butlin's is a British institution and an established cultural phenomenon, with a very particular character, history and identity. Having attracted tens -of -millions of holidaymakers since its creation in 1936, the popularity of Butlin's popularity peaked in the 1970s, but today it remains a thriving centre for family holidays and themed leisure breaks.
Shot using large-format, Fox's deeply saturated colour photographs provide a fascinating update to a holiday icon most often associated with the golden era of British seaside culture, in contrast to the popular themed adult weekends now on offer and which will be the subject of Resort 2, the second book by Anna Fox planned to be published by Schilt Publishing in 2014.Resort 1 includes essays by David Chandler, Stephen Bull and Dr Roni Brown.
Born in 1961 and completing her degree in Audio Visual studies at The Surrey Institute, Farnham in 1986, Anna Fox has been working in photography and video for over twenty years. Influenced by the British documentary tradition and US 'New Colourists', her first work Workstations (published by and exhibited first at Camerawork, London 1988) observed, with a critical eye, London office culture in the mid- Thatcher years. Her later work documenting weekend wargames, Friendly Fire, was exhibited in the exhibition Warworks at the Victoria & Albert Museum, the Netherlands Foto Institute and the Canadian Museum of Contemporary Photography. Her solo shows have been seen at The Photographer's Gallery, London, and The Museum of Contemporary Photography, Chicago, and her work has been included in numerous international group shows - Through the Looking Glass, Centre of the Creative Universe: Liverpool and the Avant-garde, and How We Are: Photographing Britain, amongst others.
Anna Fox is Professor of Photography at University for the Creative Arts at Farnham, UK.
www.schiltpublishing.com