Ermitazniki / druk 1
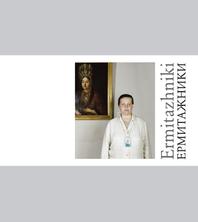 Voorzijde

Achterzijde

ISBN: 9789053307984
Verschijningsvorm: Paperback
Auteur: Lucia Ganieva
Druk: 1
Pagina's: 24
Taal: Engels
NUR:
Photographer Lucia Ganieva visited the State Hermitage Museum in St. Petersburg not to admire its wonderful art collection but to photograph the guards who keep an eye on the paintings as well as on the millions of art lovers and tourists passing through every year.
These guards often work for decades in the museum, as witnessed by the ID they carry on their chests - obviously first issued when the guards were much younger. The guards will typically work in the same room or hall for years, and over time one work of art will come to occupy a special place in their hearts.
So Lucia photographed the guards in front of their favourite painting, and in doing so she shows us something quite extraordinary: the guards have developed a remarkable resemblance to the persons portrayed in the paintings! Her portraits even shows three portraits of the "same" woman! Look at the colours, the eyes, the shape of the head, the way they allow themselves to be portrayed!
Only the very best photographers are able to see what we ordinary people miss. This stunning, elegant portrait series proves what a great master Lucia Ganieva is.
Lucia Ganieva was born in Russia but has lived in The Netherlands since 1993. In 2007 she graduated cum laude at the Foto Academie Amsterdam with the Tiltenberg project, published in book form by Schilt Publishing. Since then, her work has been exhibited all over the world and has won countless international prizes and awards.
With text by Irina Tchmyreva
Design: MV Levievandermeer