Tincture of Malice
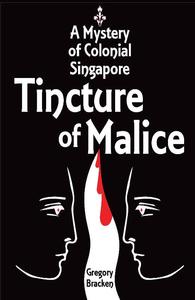 Voorzijde

Achterzijde

5,00
Met 5% studentenkorting
Voor 4,75
i
ISBN: 9789052694191
Verschijningsvorm: Paperback
Auteur: Gregory Bracken
Druk: 1
Pagina's: 255
Taal: Engels
Verschijningsjaar: 2015
NUR:
Singapore, 1907. When a group of Singapore's leading citizens gathers at Government House to greet the the arrival of the Duke of Connaught it seems like a Somerset Maugham story come to life: businessmen, colonial officials, rubber planters, even the Sultan of Belantan has brought his fabled jewelled kris. When one of them is found brutally murdered the next morning suddenly it's Agatha Christie.
Dr Gregory Bracken is an Assistant Professor of Architecture at the Technical University of Delft and a Research Fellow at the International Institute for Asian Studies (IIAS) in Leiden, both in the Netherlands. He was born in Dublin, Ireland in 1968 and worked for many years as an architect in Bangkok and Singpore. He is the author and illustrator of the popular 'Walking Tour' series of architectural city guides and has written a number of academic books as well as novels, including Unusual Wealth, which was a national bestseller in Thailand.