Two Centuries of Solidarity / druk 1
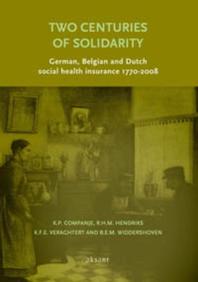 Voorzijde

ISBN: 9789052603445
Uitgever: Amsterdam University Press


Today, health insurance is a key component in the system of social security in most European Union countries. In many of these countries, modern health-insurance funds and healthcare insurers play an essential role in implementing the public health-insurance system. Many of these health-insurance funds have a long and fascinating history, of which clear traces can be seen today in the organisation and structure of health insurance, as well as health-insurance funds and insurers.
In Two centuries of solidarity, the authors compare the systems of health insurance, health-insurance funds and healthcare insurers in Germany, Belgium and the Netherlands. Given the similar political, economic and social development that these countries have undergone in the past 60 years and the availability of a qualitatively high level of health care, one might expect a high degree of similarity between these countries¿ healthcare insurance systems. However, the dissimilarities are surprising. In fact, these differences are currently becoming ever more apparent between systems in general, and the structure and operation of the health insurance funds and health care insurers in particular. The differences include the compulsory nature of insurance, the extent of coverage, premiums, entrepreneurship, competition, and the degree of private insurance.
Many of these national singularities can be understood and explained only by considering the historical background of the health insurance systems, the insurers, and their evolution over the past two centuries. This study adopts an institutional and political perspective towards a further understanding of the development of health insurance, and of how this ultimately determined the specific nature of the healthcare insurers and funds and the way they currently operate in Germany, Belgium and the Netherlands.
Karel-Peter Companje is Head of the Knowledge Centre History of Social Health Insurance at the Free university Amsterdam.
Karel Veraghtert is emeritus professor in history at Tilburg University.
Brigitte Widdershoven is policy employee at the Technical University Delft.