Handbook of Dutch flower arranging
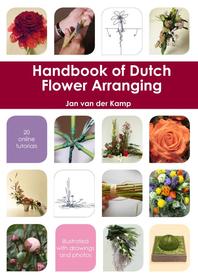 Voorzijde

Achterzijde

39,50
Met 5% studentenkorting
Voor 37,53
i


Vóór 16 uur besteld,
morgen in huis
ISBN: 9789051799323
Uitgever: Gopher B.V.
Auteur: Jan van der Kamp
Pagina's: 280
NUR:
Are you looking to gain more background knowledge of flower arranging or acquire the various skills and techniques? This Handbook of Dutch Flower Arranging will help you do just that. The instructions in the book and the tutorials on YouTube will teach you how to make various flower arrangements. From wearable flowers, vase arrangements and hand-tied bouquets to practical tips about conditioning and cutting flowers. Among other things, the theory section also focuses on tools and equipment, colour theory, symbolism and terms and definitions in flower arranging.
Besides offering a combination of theoretical and practical information, the Handbook of Dutch Flower Arranging is intended as a source of inspiration for your own creativity. The examples in the book form the basis for you to experiment. Experimenting with techniques, materials and colours - and your own imagination, of course - offers endless options! There's always something for everyone, a unique creation for every occasion. Give your ideas free rein and develop your own style of flower arranging!