Chessmen Art and History / druk 1
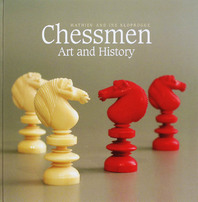 Voorzijde

72,25
Met 5% studentenkorting
Voor 68,64
i
ISBN: 9789051795325
Verschijningsvorm: Hardback
Auteur: M. Kloprogge & I. Kloprogge
Druk: 1
Pagina's: 250
Taal: Engels
Verschijningsjaar: 2007
NUR:
"Het mooie van schaken is de magie waarmee het spel omgeven is.Het echtpaar Mathieu en Ine Kloprogge begrijpt die magie ook." De Volkskrant, Cicero-katern 16 november 2007
Dit bijzondere salontafelboek voor de feestdagen is op dinsdag 23 oktober gepresenteerd in boekhandel Van Stockum in Den Haag, waar een van de de grootste schaakboekcollectie van West-Europa is gevestigd.
Over the years Mathieu and Ine Kloprogge have spent a great deal of enthusiasm and time on collecting chess sets, and consequently they travelled all over Europe. Today they are the proud owners of a precious and extraordinarily interesting, private collection.
They often admire the workmanship of the sets, particularly of the older ones, the patience of the craftsmen and the ingenuity with which some concepts were technically solved. The authors have deliberately chosen not to describe any games of chess, however famous or ingenious. They have concentrated entirely on the origin and evolution of chess and the description of chess sets and chess pieces.
Unlike other books in this field they have classified the chessmen first by century and afterwards by country. Each century starts with an introduction in which the most important cultural, social and scientific developments of the period are described and the influence they had on the design of chess pieces. In the book many sets of their private collection are shown and described in addition to many famous chess sets from all over the world. Dozens of museums have contributed to the realization of this book, including the Louvre, the British Museum and the Metropolitan Museum of Art in New York.
With the book comes a special CD. The CD contains many close-up images of the chess pieces shown as well as historical information about the cities where the chess sets had been made during the centuries.