The Basics of financial management-answers and solutions / Druk 2
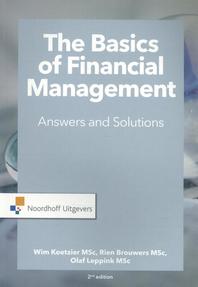 Voorzijde

28,95
Met 5% studentenkorting
Voor 27,50
i
ISBN: 9789001889258
Uitgever: Noordhoff
Verschijningsvorm: Paperback
Auteur: W. Koetzier, M.P Brouwers & O.A. Leppink
Druk: 2
Taal: Engels
Verschijningsjaar: 2018
Categorie:
NUR:
This is the additional answers book of Basics of Financial Management.
Basics of Financial Management is the international edition of Basisboek Bedrijfseconomie. A perfect introductory textbook for first year students. Part 1 introduces students to the main economic concepts. The following parts offer a deeper insight in the fields of finance, finance management and accounting. Basics of Financial Management comes with a separate exercise and solution book. No prior knowledge of business economics is required.
- International edition of the popular Dutch textbook for Financial Management;
- contains new sources of finance, such as business angel, crowdfunding and credit unions;
- comes with lots of rich online materials for both students and teachers.