Hospitality Experience / Druk 3
An Introduction to hospitality management
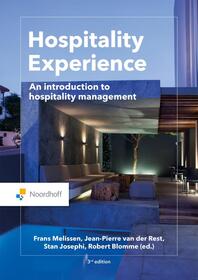 Voorzijde

Inkijkexemplaar

68,95
Met 5% studentenkorting
Voor 65,50
i


Vandaag besteld,
morgen verzonden
- Provides a complete overview of the hospitality industry;
- includes an extensive chapter on intercultural hospitality experiences;
- offers interesting analysis as well as engaging real-world examples.
Hospitality Experience is an exciting introduction to hospitality management. Step-by-step it shows students how to create and manage unique hospitality experiences. The book provides clear answers to important questions regarding hospitality management, beginning with what it is and who the (future) players involved in it are. It gives a complete overview of the hospitality industry and all the aspects of hospitality management, from design to delivery of hospitality experiences.
This new (third) edition of Hospitality Experience has been thoroughly revised and updated to include the latest developments in the field of hospitality management. The real-world examples have also been updated to reflect these most recent developments.
Hospitality Experience is suitable for all students in Hospitality Management and Hotel Management majors. It is also useful in related minors and even for professionals in the field of hospitality.
The accompanying website provides plenty of extra material for students and teachers. Students will find additional tests and tables there. Teachers have online access to answers to the questions of this edition and can use the available presentations in their lectures.
Teachers can make use of Toets-op-Maat. With this convenient tool, teachers can create their own tests. This test bank contains all the test questions from the practice exams for students. The tests can be exported in different formats.
Frans Melissen is Professor of Sustainable Experience Design at the Academy of Hotel and Facility Management, Breda University of Applied Sciences. He is also a Professor of Management Education for Sustainability at Antwerp Management School.
Jean Pierre van der Rest is Professor of Business Studies at Leiden University. He studied Managerial Economics at the University of Durham (UK), and received a PhD from Oxford Brookes University (UK) on the topic strategic pricing capabilities, about which he published among others in the Journal of Strategic Marketing. Van der Rest is a versatile scholar who focuses on pricing, revenue management, and business failure in the fields of hospitality, tourism, service science, operations research, law and marketing.
Rob Blomme is Associate Dean of Degree Programs and Faculty, and a Full Professor of Organization Behavior at Nyenrode Business University. Since 2016, Blomme is also full professor management and organization at the Open University Netherlands and he is a visiting professor at different universities including Leiden University and the Hotelschool The Hague. His main research concerns psychological, sociological, humanistic and institutional aspects of organizational behavior and organizational development.
Stan Josephi works as Senior Lecturer at the Academy of Hotel Management at Breda University of Applied Sciences. He has extensive experience in the international hotel industry and his career in revenue management spans over 20 years, in which he has been involved with the phenomenon as a consultant, trainer, educator, and researcher. Josephi is particularly interested in studying the barriers that exist between the different commercial departments of hotel organizations, looking at (automated) solutions that will send organizations on their way to an integrated approach to demand management.