Marketing Research / 6th Edition : Applied Insight
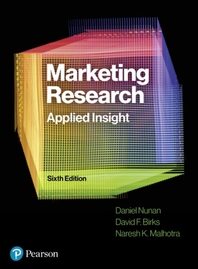 Voorzijde
ISBN: 9781292308722
Uitgever: Pearson
Verschijningsvorm: Paperback
Auteur: Dan Nunan e.a.
Druk: 6
Pagina's: 968
Taal: Engels
Verschijningsjaar: 2020

Marketing Research by Malhotra, Nunan and Birks is the leading marketing research text, focused on the key challenges facing marketing research in a European context.This comprehensive, authoritative and applied text offers you a clear explanation and discussion of concepts, a wealth of European and international case material showing how researchers apply concepts and techniques and integrates with online resources for students and an instructors' manual including key discussion points. It supports both qualitative and quantitative research methods through: Introducing the transactional stages of marketing research of problem definition, developing approach and design, data collection, analysis and communicating the research findings. Using Real Research case studies of how companies address specific managerial problems and implement research, as well as real-life marketing situations and exercises to tackle in every chapter.
Applying marketing research to current marketing challenges such as social media, mobile marketing, customer value, experiential marketing, satisfaction, loyalty, customer equity, brand equity and management, relationship marketing, creativity and design, and socially responsible marketing. This edition has been significantly updated, with new content, updated case studies and a major focus on the issues and methods. This includes the ever shifting impact of new technologies, the growth of 'insight' and the shifting role of research ethics, for example through considering the impact of GDPR.
Suitable for use at the undergraduate, postgraduate and MBA levels, this highly successful European textbook is your essential guide to Marketing Research. Dr Naresh K Malhotra is Professor Emeritus, College of Management, Georgia Institute of Technology, USA. He has consulted for business, nonprofit and government organisations across the globe.
In 2011 he received the Best Professor in Marketing Management, Asia Best B-School Award. Dr Daniel Nunan is Lecturer in Marketing at Birkbeck, University of London, having previously been a member of faculty at Henley Business School, University of Reading. Prior to his academic career, Dan held senior marketing roles in the financial services and technology sectors.
Dr David Birks is Professor of Marketing at Winchester Business School, the University of Winchester, England. He teaches quantitative and qualitative marketing research and leads developments across the University in digital marketing research.