Business and Management Consulting / 6th edition
Delivering an effective project
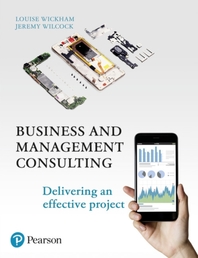 Voorzijde

68,95
Met 5% studentenkorting
Voor 66,45
i
ISBN: 9781292259499
Uitgever: Pearson
Verschijningsvorm: Paperback
Auteur: Louise Wickham & Jeremy Wilcock
Druk: 6
Pagina's: 336
Taal: Engels
Verschijningsjaar: 2020
NUR:
Gain consulting insights into business decision-making in today's environmentBusiness and Management Consulting, 6th Edition, by Wickham and Wilcock, first published as Management Consulting over 20 years ago to guide students through the consultancy process. This edition, renamed Business and Management Consulting, reflects the way in which the consulting world has changed over the past two decades - new digital technologies have made information more accessible and changed the way businesses have to operate, so management consultants need to have a wider view of their client company. Management consulting remains a popular career choice but undertaking a consulting project for the first time can seem daunting for a student or new professional.
This book continues to offer a practical guide to balancing theory and practice, while also giving tips and techniques to the more seasoned practitioner, so is ideal for anyone who is undertaking a consulting project. This is delivered from the accumulated knowledge and insight of the authors and contributors, who all have been consultants. The 6th Edition has been revised to reflect how new technologies for communication and information gathering have changed the way in which consultants operate.
It also includes more insights into how businesses take decisions that impact consulting projects in today's faster paced, more volatile environment. Key features A comprehensive introduction to the best practice in conducting a consulting project Key insights into how best to tackle the challenges that arise Case studies from across a wide range of industries at the end of each chapter and a long case study running throughout the book Help in choosing and developing a career in consultancy Extensive references and further reading to underpin a student's knowledge In the Preface, several 'pathways' are provided for the different types of project a student may be required to undertake, taking into account their academic level and previous experience Throughout the chapters, the key ideas are highlighted to aid the reader in navigating the book New to this edition More information on how to sell a consulting project Further detail on ways to manage the project tasks with specific tools Specific tools for analysis of digital communications such as websites and social media Techniques for minimising the risks the consultant may face New case exercises, based on real consulting projects, to put tools and techniques into practice Louise Wickham has over 35 years business experience, both within companies and as a consultant, working for a wide range of consumer-facing businesses and the not-for-profit sector. Jeremy Wilcock is Lecturer in International Marketing at the University of Hull.
He has 27 years industrial experience with a major multi-national where he worked on numerous internal consultancy projects. He has lectured regularly in subjects including strategic management and business analysis at undergraduate and postgraduate level, and has supervised student consulting projects. Pearson, the world's learning company.