Management Accounting with MyAccountingLab and eText
Information for decision making and strategy execution
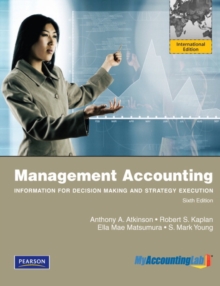 Voorzijde

Inhoudsopgave



Vóór 16 uur besteld,
morgen in huis
ISBN: 9781292163314
Uitgever: Pearson
Verschijningsvorm: Paperback
Auteur: Atkinson e.a.
Druk: 6
Pagina's: 552
Taal: Engels
Verschijningsjaar: 2016
Categorie:
For Introductory Managerial or MBA courses.This package includes MyAccountingLab (R). An approach to management accounting from the perspective of a business manager.Management Accounting: Information for Decision-Making and Strategy Execution explains how business managers can estimate and manage the cost and profitability of their products and customers. This text also covers how managers use financial and nonfinancial information to improve processes, design and develop new products, and motivate employee performance.
This package includes MyAccountingLab, an online homework, tutorial, and assessment program designed to work with this text to personalize learning and improve results. With a wide range of interactive, engaging, and assignable activities, students are encouraged to actively learn and retain tough course concepts. MyAccountingLab should only be purchased when required by an instructor.