Academic Writing for International Students of Business / 2nd edition
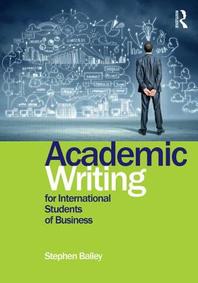 Voorzijde

ISBN: 9781138783904
Uitgever: Taylor & Francis
Verschijningsvorm: Paperback
Auteur: Bailey, Stephen
Druk: 2
Pagina's: 320
Taal: Engels
Verschijningsjaar: 2015
NUR:
International students of Business or Economics often need to write essays and reports for exams and coursework, and this new, second edition of Academic Writing for International Students of Business has been completely revised and updated to help them succeed with these tasks. This book explains the academic writing process from start to finish, and practises all the key writing skills in the context of Business Studies. The book can be used either with a teacher or for self-study, and is clearly organised into four parts, with each divided into short units that contain examples, explanations and exercises for use in the classroom or for self-study.