Purchasing and Supply Chain Management / 7th edition
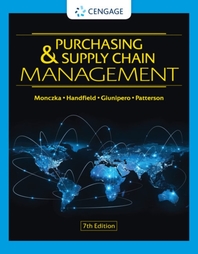 Voorzijde

243,85
Met 5% studentenkorting
Voor 231,66
i


Vóór 16 uur besteld,
morgen in huis
ISBN: 9780357442142
Uitgever: Cengage Learning
Verschijningsvorm: Hardcover
Auteur: Robert (North Carolina State University) Handfield, Robert (Michigan State University) Monczka, Larry (Florida State University) Giunipero & James (Western Illinois University) Patterson
Druk: 7
Pagina's: 800
Taal: Engels
Verschijningsjaar: 2020
NUR:
Present the most current, complete coverage of today's supply management process from a managerial perspective with Monczka/Handfield/Giunipero/Patterson's PURCHASING AND SUPPLY CHAIN MANAGEMENT, 7E. This edition draws from the authors' extensive first-hand experiences and relationships with executives and practitioners worldwide to highlight critical developments in the field. Students examine recent advancements in supply chain fraud management, artificial intelligence, analytics, procurement automation and robotic process automation. New content also discusses supply chain fraud management and mitigation, emerging technology in real-time supply chain control towers, use of blockchain and the creation of Centers of Excellence. In addition, numerous real cases and memorable examples provide contextual insights into the strategies, processes and practices of supply management. A digital support packages helps you further emphasize the impact of purchasing and supply chain management on an organization's competitive success and profitability.