The Elements of User Experience
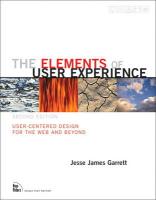 Voorzijde



Vóór 16 uur besteld,
morgen in huis
ISBN: 9780321683687
Uitgever: Pearson
Verschijningsvorm: Paperback
Auteur: Jessie James Garrett
Druk: 2
Pagina's: 240
Taal: Engels
Verschijningsjaar: 2010
NUR:
From the moment it was published almost ten years ago, Elements of User Experience became a vital reference for web and interaction designers the world over, and has come to define the core principles of the practice. Now, in this updated, expanded, and full-color new edition, Jesse James Garrett has refined his thinking about the Web, going beyond the desktop to include information that also applies to the sudden proliferation of mobile devices and applications.
Successful interaction design requires more than just creating clean code and sharp graphics. You must also fulfill your strategic objectives while meeting the needs of your users. Even the best content and the most sophisticated technology wont help you balance those goals without a cohesive, consistent user experience to support it. With so many issues involveda??usability, brand identity, information architecture, interaction designa?? creating the user experience can be overwhelmingly complex.