Economics, 20th Global Edition (1080 days license)
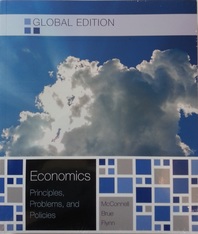 Voorzijde

ISBN: 9780077174590
Uitgever: McGraw-Hill
Auteur: MacConnell, Brue & Flynn
Druk: 20

We are pleased to present this Global Edition, which has been developed specifically to be innovative while teaching students in a clear, unbiased way. It builds upon the tradition of leadership by sticking to three main goals:
Help the beginning student master the principles essential for understanding the economizing problem, specific economic issues, and policy alternatives.
Help the student understand and apply the economic perspective and reason accurately and objectively about economic matters.
Promote a lasting student interest in economics and the economy.
The distinguishing features of this text include:
Comprehensive explanations at an appropriate level that students can read and comprehend.
Extensive treatment of International Economics.
A strong emphasis on the Theory of the Firm.
A Focus on Economic Policy and Issues.
Consider This boxes and Last Word boxes which feature analogies, examples, or stories that help drive home central ideas in a student-oriented, real-world manner.
This Global Edition has been adapted to meet the needs of courses outside the United States and does not align with the instructor and student resources available with the U.S. edition.