COELHO*ALCHEMIST
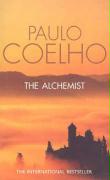 Voorzijde

11,95
Met 5% studentenkorting
Voor 11,35
i
ISBN: 9780007155668
Uitgever: Harper Collins UK
Verschijningsvorm: Paperback
Auteur: Paulo Coelho
Druk: 1
Pagina's: 177
Taal: Engels
Verschijningsjaar: 2002
NUR:
BiographyThe Brazilian author PAULO COELHO is considered one of the most influential authors of our times. His books have sold more than 165 million copies worldwide, have been released in 170 countries and been translated into 80 languages. Born in Rio de Janeiro in 1947, he soon discovered his vocation for writing. He worked as a director, theater actor, songwriter and journalist. His collaboration with Brazilian composer and singer Raúl Seixas gave some of the greatest classic rock songs in Brazil. In 1986, a special meeting led him to make the pilgrimage to Saint James Compostela (in Spain). The Road to Santiago was not only a common pilgrimage but a turning point in his existence. A year later, he wrote 'The Pilgrimage', an autobiographical novel that is considered the beginning of his career.