Services marketing management, an introduction / druk 1
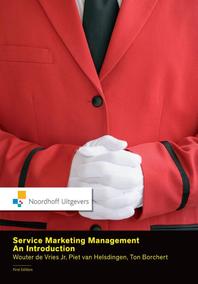 Voorzijde

Achterzijde

52,95
Met 5% studentenkorting
Voor 50,30
i
ISBN: 9789001802660
Uitgever: Noordhoff
Verschijningsvorm: Paperback
Auteur: Wouter de Vries Jr., Piet van Helsdingen & Ton Borchert
Druk: 1
Pagina's: 350
Taal: Engels
Verschijningsjaar: 2013
Categorie:
NUR:
Service Marketing Management – An Introduction is structured according to the basic features of services - and after reading it students will be ready to start working in a service-providing organisation. This textbook is a practical guide for any student who wants to learn something about services, marketing and management.
With the services sector increasingly gaining importance and professionalism more in demand than ever, the business world desperately needs well trained managers and marketers. Nowadays, (future) service providers realise that rather than doing their customer a favour by serving them, these customers are doing them a favour by allowing to serve them! This insight is the foundation of Service Marketing Management.