A Short Guide to Political Risk
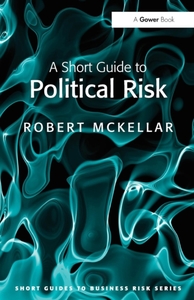 Voorzijde

ISBN: 9780566091605
Uitgever: Taylor & Francis
Verschijningsvorm: Paperback
Auteur: Robert McKellar
Druk: 1
Pagina's: 198
Taal: Engels
Verschijningsjaar: 2010
NUR:
In a competitive and increasingly internationalised business world, many companies rely on the high risk/reward ratio of operating in unstable areas. Those companies willing to engage in emerging or developing countries can often be exposed to a politically volatile environment over which they have little control. Political risk, therefore, is one of the most hazardous challenges that an international business can face.
In A Short Guide to Political Risk you will find a business-centric introduction to political risk that will familiarise international managers with the concept and accelerate the learning curve towards proficient and coherent political risk management. Robert McKellar explores: the key political risks that companies have faced in the recent past, and current trends in the evolution of the political risk landscape; the concept of political risk and its constituent elements; models and approaches for assessing political risk; the principal options for managing political risk, and suggestions for organisational structures to ensure a coherent and consistent approach; as well as wider issues that a company needs to consider in developing its own attitude and philosophy on political risk. A Short Guide to Political Risk is an essential introductory guide for risk managers and for all senior managers concerned with their organisation's global performance and reputation.