Rifugio
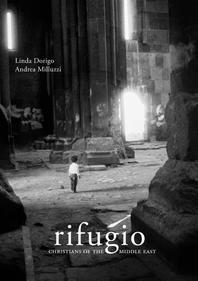 Voorzijde

Achterzijde

40,00
Met 5% studentenkorting
Voor 38,00
i
ISBN: 9789053308431
Uitgever: Schilt Publishing B.V.
Verschijningsvorm: Hardcover
Auteur: Linda Dorigo & Andrea Milluzzi
Druk: 1
Taal: Engels
Verschijningsjaar: 2015
NUR:
The birthplace of Christianity lies on the Iranian slopes from Mount Araratto Mount Lebanon. Since those ancient times, the rugged valleys and gorgeshave served as a refuge for monastic communities and those in search ofsolitude. Nowadays, 12 million Christians are assumed to live in the MiddleEast, but only a few of them remain to live in the region because of radicalIslam and persecutions; millions have relocated to North America, Europeand Australia.Linda Dorigo and Andrea Milluzzi travelled through Iran, Lebanon, Egypt,Israel, the West Bank, the Gaza Strip, Jordan, Turkey and Syria. They weredriven towards the small Christian communities that choose to not be partof the diaspora.While the Middle East was being turned upside-down by revolutions and bya fractured war inside Islam, Christians became a religious minority, disillusionedwitnesses closed in their self-defence.The recent developments in the Middle East, including the horrific crueltiesperpetrated predominantly against Christians by Islamic State, makes Rifugioan essential document for all those interested in world politics.Rifugio is, also because of the latest developments in the Middle East, including the horrific cruelties against Christians and Muslims by the Islamic State, extremely topical and of utmost importance.Linda Dorigo is an independent photojournalist and documentary photographer currently based between Italy and the Middle East. Andrea Milluzzi is a freelance journalist; previously he has worked at the Italian newspaper Liberazione. Together, based in Beirut, they are focused on documenting the Middle East region.