Basement sanctuaries / druk 1
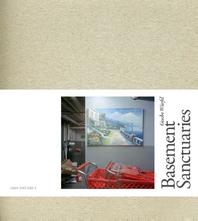 Voorzijde

Achterzijde

ISBN: 9789053308196
Verschijningsvorm: Paperback
Auteur: Gesche Wurfel
Druk: 1
Pagina's: 60
Taal: Engels
NUR:
Basement Sanctuaries explores the ways in which superintendents
decorate basements of apartment buildings in Northern Manhattan,
New York City by illuminating the process of migrant adaptation to
the metropolis from an intimate perspective. Superintendents are
caretakers that usually live in the basements of apartment buildings
with ten or more units. They are in charge of the building on behalf
of the owner, maintain its public areas and the building's mechanical
and technical systems, do repairs in the apartments and deal with the
tenants' concerns. Most of the supers in Northern Manhattan are
migrants from Latin America or the Caribbean. During the process of
apartment hunting in Northern Manhattan, Wurfel discovered these
unexpected and innovatively decorated areas. The repeated themes
of cultural, national, and religious origins suggest that similar
impulses drive the decoration process for different supers. However
the photographs also show the diverse ways in which supers have
personalised their multifunctional living/work spaces and have
created a uniquely intimate space in the basement of New York City.
Grey Matters Series
This is the fourth volume in the Schilt Publishing Grey Matters series
following on from Matthew Murray's SKA, Chiara Tocci's Life After
Zog, and Lucia Ganieva's Ermitazhniki.
Gesche Wurfel, born in Bremerhaven,
Germany, has lived in the United
States since 2009. She gained a degree
in Urban Planning from the University
of Dortmund, Germany in 2003 and an
MA in Photography and Urban Cultures
with Distinction from Goldsmiths,
University of London, UK in 2006. She
was selected as one of the Bloomberg
New Contemporaries in 2007 and has
been exhibited internationally. The
Basement Sanctuaries series has been
awarded three grants by the Northern
Manhattan Arts Alliance and the Lower
Manhattan Cultural Council, and has
been exhibited at Field Projects NYC
and the New York Public Library.
Basement Santuries will be exhibited at
UPI, Dumbo, Brooklyn, NY in June 2014
and at Blue Sky Gallery, Portland,
Oregon in September 2014.